European Paragliding Hotspots
There are a number of great spots in Europe where the paragliding enthusiast can take to the skies. Thanks to the fact that the equipment needed is relatively light, travelling around Europe with it to check out these sites will be easy.
Oludeniz in Turkey
Oludeniz can be found in the southwestern part of Turkey. This area is often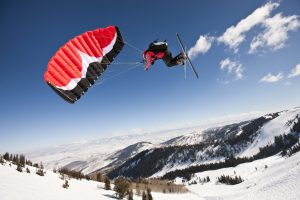 referred to as the Turquoise Coast. The departure point for paragliding is the beach. A jeep ride is needed to get to the actual launch site, which actually sits 1900 metres above sea level. The paraglider only needs a short running start and is in the air very quickly. A flight from here is normally around 45 minutes and the views are spectacular.
Annecy in France
France is widely considered to be the spiritual home of paragliding. Annecy is a good location because it is close to the Alps, so visitors here will always see a large number of paragliding pilots around. There are also plenty of schools and instructors available in the area. The Alpine views from the air will never be forgotten.
Tuscany in Italy
The rolling hills in Tuscany are ideal for paragliding and the climate means that there are plenty of opportunities. Most people who come to the area will combine this with a wine tasting trip or two!
Algodonales in Spain
This is a great site no matter how experienced the flyer is. It is an amazing location and again it is a site that offers great views. The hills here mean that the wind can be caught in most directions and visitors often see the paragliders in action.
Tyrol in Austria
Another Alpine location, this is one that is available even for those who do not have a license for flight, although it is not recommended to fly without one. There are numerous sites that are suitable for launch and landing and some of these are extremely popular. Head for the area of Wilder Kaiser, which is attracting increasing numbers of paragliders each year.
Kobala in Slovenia
Slovenia is fast becoming one of the most popular destinations in Europe for paragliders. Consider the Julian Alps where some of the peaks are more than 2000 metres high. Many of the paragliders that come here will be heading towards Peak Triglav, which is almost 3000 metres high. This is also a good destination for those who want to take part in competitions as there are plenty taking place throughout the year.
Interlaken in Switzerland
There are now lots of adventure sports that are available in Interlaken and paragliding is just one of these. The safety standards here are good and the weather conditions mean that paragliding can be done at most times of the year. Beginners will find this a great place as it is easy to book a tandem flight while here and this gives the opportunity to enjoy the views without worrying about controlling the glider.