What is Paragliding?
Paragliding gives people the chance to fly, providing a sense of freedom that can only be found in the air. It is fast becoming a very popular sport all over the world and there are paragliding clubs that enthusiasts can join so they can enjoy the social side of the sport.
Paragliding is considered to be far more accessible than hang-gliding, thanks to the portability of the equipment and the ease with which people can learn to fly. Strong winds can be more of a problem in paragliding than hang gliding.
A paraglider is not a cheap piece of equipment and those who want to get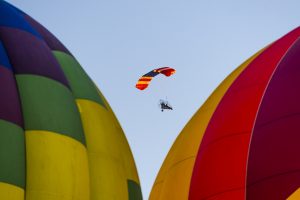 started in the sport will need to spend a few thousand on a good quality paraglider and the rest of the essential equipment.
The paragliders launch on hills and tow sites. Most enthusiasts will opt for hill flying but in areas where hills are few and far between, tow sites are more common.
Those who do want to start need to put in quite a lot of time at first. Around 10 flying days are needed to ensure that a pilot is trained to the minimum standard for unsupervised flying within a club environment. The early part of the training explains all that the student needs to know about the canopy and how it is controlled. There is also a theory exam that needs to be taken.
This training will also cost a little money, but there are clubs that will allow people to take a one day taster course.