Paragliding Hints and Tips
Those who want to try their hand at paragliding might find that the following hints and tips are useful when it comes to planning their hobby. This is not an exhaustive list, but for the beginner these tips can make all the difference when it comes to making decisions on equipment and training.
A tandem flight

One of the ultimate goals of paragliding is to take to the skies alone and enjoy the freedom that it offers, but at the beginning the experience is very different. For this reason it is a good idea to take a tandem flight where the professional will demonstrate what it is like to fly in a paraglider without the passenger having to worry about the controls of the glider. This can usually be done through a local paragliding school.
Arranging a course
Those who are sure that they want to go ahead and pursue this exciting new hobby can book a course through their local club or school. Certified professionals conduct the training and the process of becoming certified to fly unsupervised will take just a few days. This is a hobby that can be expensive to begin with but after all the equipment has been purchased and all training completed, costs are generally limited to traveling to and from the launch sites.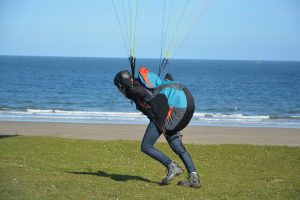 Selecting the right paragliding equipment
Those who make mistakes in their equipment choices in the early stages might find that they are reluctant to continue with the hobby because it just does not feel right. As a starting point a paraglider, harness, reserve and helmet are needed. It is an outlay of a few thousand pounds/dollars to begin with. If buying paragliding equipment second-hand then it is important to ask for a service record. This is also where instructors are useful as they can offer a lot of advice on the right equipment for the individual.
Become a club member
The training offered by schools will take the beginner to 'club pilot' level. This means that they are able to fly as part of the club environment. However, this means that club membership is essential. There are many advantages to joining a club, in particular the ability to gather essential tips from other members.
Fly with friends


Once the basic course has finished the thought of flying solo can be very daunting. This is why it is always a good idea to fly with other people as much as possible. Other club members will have a wealth of experience that can be harnessed. They will know the best sites and there will be club nights where people can get to know people socially too. The club nights are also the ideal way to network with pilots and coaches who can help those who are new to the sport increase their flying time. They will help to monitor the weather so that the best days for flying can be chosen for flying events.